Marine Bonzom is a young artist from the South West noted for her vibrant abstract canvases that transport us. For this globe trotter always ready for adventure, expressing oneself on canvases is a need, a necessity. This is what makes his art so exciting and endearing.
To decipher her work, we went to meet her.
---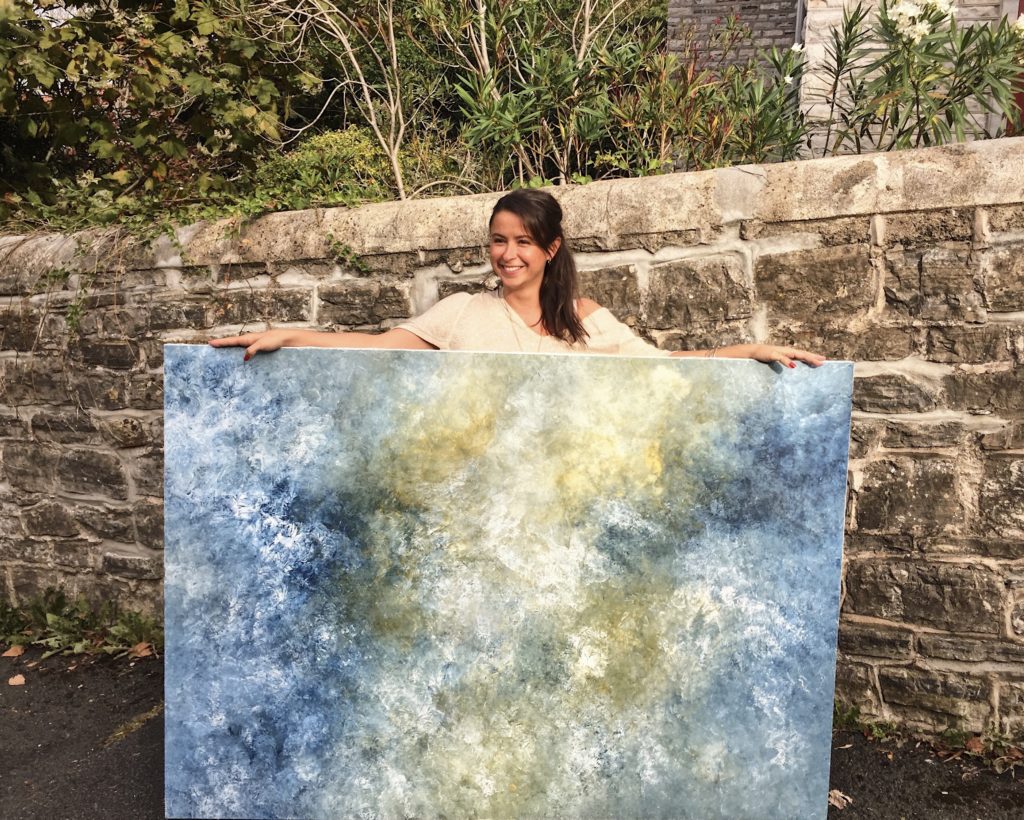 Hello Marine Bonzom, where do you come from?

I was born and raised in Biarritz in the South West of France.


How old were you when you started painting?

From my recollection I was very young. It started with the drawing, then very quickly the colors, in every way and without limit, I must have been 7 years old. With my grandfather or my mom, it was the main activity.

A true transmission of artistic momentum, very simply and as a matter of course. Then school, the incessant need to scribble, use images, color, cut, paste, assemble, build one thing from many others.

Then the visual arts and the first tests on canvas around 12 years with the discovery of matter and mediums… immediately fulfilling sensations. That's when I groped at what would artistically match me.


What motivated you to do your job?

My passion has always been. I made it my job three years ago. It's almost as if life didn't give me a choice despite several other professional desires and opportunities.


How do you prepare to make a painting? What are your inspirations?

My inspirations come mainly from nature, from everything that surrounds me and touches me. Of all that will immediately move me and generate in me a creative impulse. It's very fast, I feel it in the moment.

I work my pigments at length, in order to obtain a color that interests me. Being very sensory, I use each of my senses when preparing a work, I can broadcast jasmine, patchouli, I listen to music … I have a real little ritual, it helps me to less "mentalize" my approach. The movement must be spontaneous, natural and obvious. It is only when I am in this state that the canvas answers me, it is an exchange between her and me. There is a real vibration, the moment is intense.


You spent 4 years with Emirates as a flight attendant, what do you remember about this adventure?

Yes indeed I worked 4 years for Emirates and I lived in Dubai from 2012 to 2016, a very intense adventure and above all an extremely rich life experience of encounters and travels. Daily discoveries around the world. Learning from elsewhere, being confronted every day "with the different", work on oneself, life lessons that personally make you grow and evolve. My passion for immersion, a rhythm at a hundred per hour, I loved it.

Years of travels that have undeniably nourished me artistically… where I was able to discover incredible landscapes, visit magical places, feel so many different climates… Taste so many flavors, discover unknown scents, all these cultures so far removed from mine, and visually a wonder of colors.. Each stop was a pure enchantment for my creativity in a different way each time.

It's etched in me and when I paint everything comes back to me.


Your best memory there?

There are hundreds of beautiful memories, but I will say the magic of first impressions once you arrive at a new destination. This unique feeling, different every time you feel when you discover a new culture, a new territory. The awakening of my senses, observing people's daily lives. So inspiring. That's what made me vibrate. I remember an early morning landing in Adelaide, Australia. Summer for them, winter in Europe… a sunrise in the sky and then once landed the smell of hot stone, mesmerizing colors all around me, the calm of people … 2 days after a stay in Russia where the cold had deeply affected me. Moments of contrasting lives on all the points that follow, mixed with the constant desire to discover new things.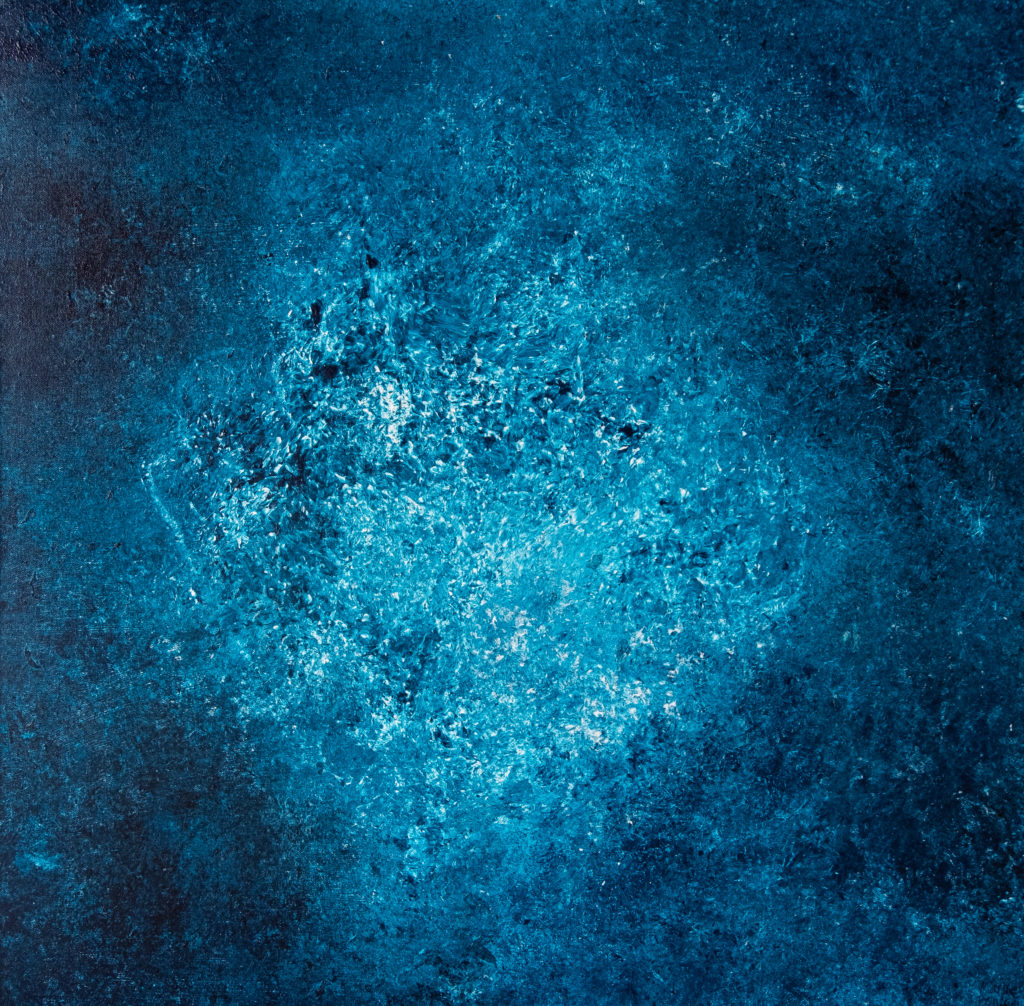 What's the most beautiful place you've ever been?

The most beautiful place… I am amazed by the beauty of the ice, the ice, it mesmerizes me. But the global love at first sight it is for Italy, everything is inspiring, the landscapes, the food, the heritage. The magic of a city like Rome, despite mass tourism, it remains for me the definition of the beautiful and the good and at the same time the charm that cannot be explained. That thing that's missing when you live in a city like Dubai. The evidence of authenticity, no need to overdo it, it's all there.


How was the return to professional artist life?

The return to life as an artist was done in a very simple way. Nothing was complicated, on the contrary everything went together, it was very motivating and encouraging.


What contemporary artists are inspiring you right now?

Everything inspires me but artistically and concerning contemporary artists at the moment it is very varied. I am touched by artists like Roberto Ruspoli, Caroline Denervaud, Kristen Giorgi, photographer Jonny Seelenmeyer, the work of Kim Keever, Rowan Mersh, there are many… I am totally transported by the painting of Simon Antony Wilson and I am a fan of Rafiy Okefolahan.

Forced to talk about the ceramicist Katarina Wells who inspires me every day.


What are your next plans?

Be more physically present by going more to meet the public. To be there, to present, to exchange, to share, to meet new people. I am looking for temporary exhibition spaces where I would like to be present. Continue to develop future projects.